Herb Society of Wake County
Herbal Crafts
Of the many uses for herbs in our daily lives, one of the most pleasurable and practical is herbal crafts. From the simplest ribbon-tied bunch of dried lavender to the most elaborate herbal topiary, herbal crafts have been created for centuries for many varied personal and household uses.
Making herbal crafts is a wonderfully satisfying way to capture the essence of your herb garden for indoor enjoyment throughout the year. Fragrance, like a favorite song or a cherished photograph, can conjure up treasured memories of past experiences. Crafting with herbs is an ideal way to preserve their fragrance.
Gather your herbs in the morning, after the dew has evaporated, and, for maximum fragrance, cut them just before their flowers are fully opened. Requiring minimal time and skill, a whole season's bounty from the herb garden can be preserved in the form of fragrant potpourris, beautiful wreaths and dried arrangements, or enchanting Christmas ornaments.
Herb-scented soaps, creams, oils, and bath mixtures are sensual indulgences on bleak winter days when the beauty of the herb garden in June seems a distant vision. The clean fresh scent of lavender imparted to stored bed linens by lavender wands or sachets can soothe the spirit like warm spring sunshine.
Aside from their aesthetic value, herb crafts serve many useful and practical purposes as well. Bunches of dried herbs hung in the closets and sachets of insect-repellant herb mixtures stashed in drawers and trunks are easy-to-make deterrents to moths and other pests that feed on woolen blankets and clothing. Pillows filled with rosemary, pennyroyal, or rue placed in pets' beds will keep fleas off the animal. Muslin tubes containing these herbs make effect chemical-free flea collars. Herb-scented candles are wonderful for eliminating musty odors in the home. Dusting pads stuffed with lemon balm leaves are useful for keeping wood furniture clean and shining, as well as for keeping cats off the furniture.
Herbal creations also make wonderful gifts. First, you get to enjoy using beautiful and fragrant materials while making a lovely product. Second, you can enjoy presenting someone special your one-of-a-kind gift and help spread your love of herbs. The members of the Herb Society of Wake County make a variety of crafts using herbs. These include potpourri, bath salts and teas, soap, topiary, herbal wreaths, and ornaments.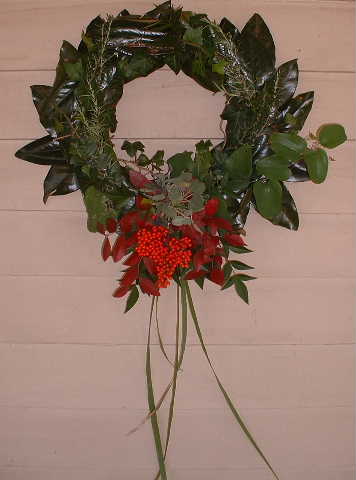 An herbal holiday wreath, including rosemary, sage, nandina, ivy, magnolia, lemon grass, blueberry, smilax, and holly
Updated: Feb. 25, 2006
<![if !supportEmptyParas]> <![endif]>